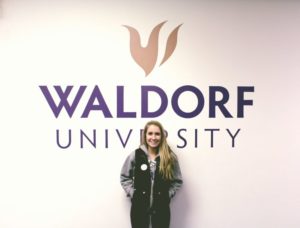 Meet Nikki Adolphson, a 2013 HOBY Iowa Alumna and 2013 WLC Alumna who has received a full-tuition Chantell Cooley Leadership Scholarship.  You can, too!
Waldorf University in Forest City, Iowa, is looking to award full-tuition scholarships exclusively to HOBY alumnae!  The Chantell Cooley Leadership Scholarship for Women will be awarded to nine female students based on their leadership potential and their membership/involvement in one of the following clubs/organizations on campus:
To qualify, applicants must have a minimum of 3.0 GPA and 21 ACT or 990 SAT.  Women must also become active leaders in one of the club/organizations listed above and live on campus to receive the scholarship.
To learn more and to apply, visit www.waldorf.edu/cooley.  Be sure to check the box that you are a HOBY alumna to receive priority!  The scholarship is good for all four years with no need to re-apply, but students must meet the requirements for involvement in their given club/organization.
Seniors:  Please submit your application no later than May 19, 2017, for the Fall 2017 semester.  Scholarship winners will be announced on May 22, and winners must be prepared to:
Sign their letter of intent for accepting the scholarship, and
Provide a $225 non-refundable deposit for tuition, room, and board to be awarded the scholarship.
A Waldorf University representative will work with students to complete the university application process.
Juniors: Please submit your application by November 17, 2017. The sooner you apply, the sooner you will know if you received the scholarship.
Applications are accepted on a rolling basis.  Good luck!
If you have any questions about this scholarship, please contact Waldorf University Admission Counselor and fellow HOBY alum '02, Rachel Anderson.
Rachel Anderson
Admissions Counselor
Waldorf University
office 641.585.8534 | cell 641.425.5912 | school 800.292.1903
106 S. 6th St. | Forest City, Iowa 50436 | rachel.anderson@waldorf.edu
HOBY International is excited to announce the launch of our Academic All-Stars pilot. This initiative is designed to recognize HOBY alumni for their accomplishments in the classroom!
Who qualifies to be an Academic All-Star?
A HOBY alumnus with a GPA of 3.5 or higher may apply to become an Academic All-Star.
Who is eligible to apply?
All alumni are eligible to participate and will have access to the Academic All-Star application online.  To manage the costs of this pilot, we will be sending direct mail to the parents of all 2015 alumni from your particular sites.
How does an alumnus become an Academic All-Star?
HOBY alumni will apply via the paper or online application; submit a non-refundable $40 application fee; and provide an unofficial copy of their transcript. 
What does an Academic All-Star receive?
The Academic All-Star will receive a congratulatory letter and certificate, a graduation cord, his/her name publicly acknowledged on a dedicated section of the HOBY website, and the title suitable for inclusion on college applications.